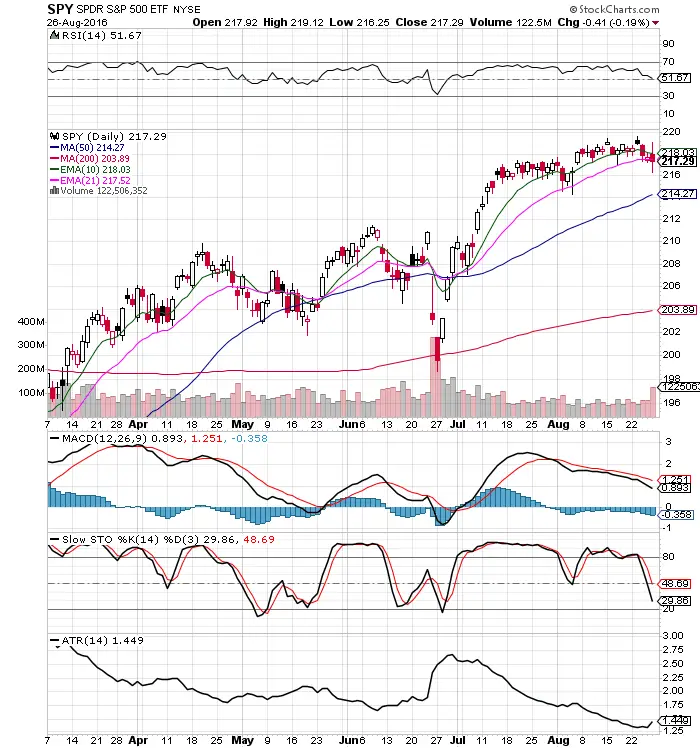 $SPY remains in the trading range it has been in since mid July. $214.25 support and all time highs are resistance at $219.60. This is a very tight range.
The chart is still bullish as it stays near all time highs and tries to breakout.
We finally had some movement on Friday with ATR increasing. It is possible to see a more tradable range intra-day next week.
Slow Stochastics is under a bearish cross and shows short term momentum is down.
MACD has remained under a bearish cross for all of August and still points to more downside.
RSI at 51.67 is neutral here with room to move either way.
Wednesday, Thursday, and Friday selling was on increasing volume.
Buying small intra-day dips in price and selling into strength continues to be rewarded.
For trends you have to trade individual stocks as the market indexes remain stuck in a range. They seem to be at home in the range.
The 10 day EMA and 21 day EMA supports were both lost last week and the next key moving average is the 50 day SMA, this could be a high probability confluence for a dip buy if it aligns with the 30 RSI next week.
I am currently in cash and looking to buy dips near the 30 RSI/ 50 SMA next week in the indexes.