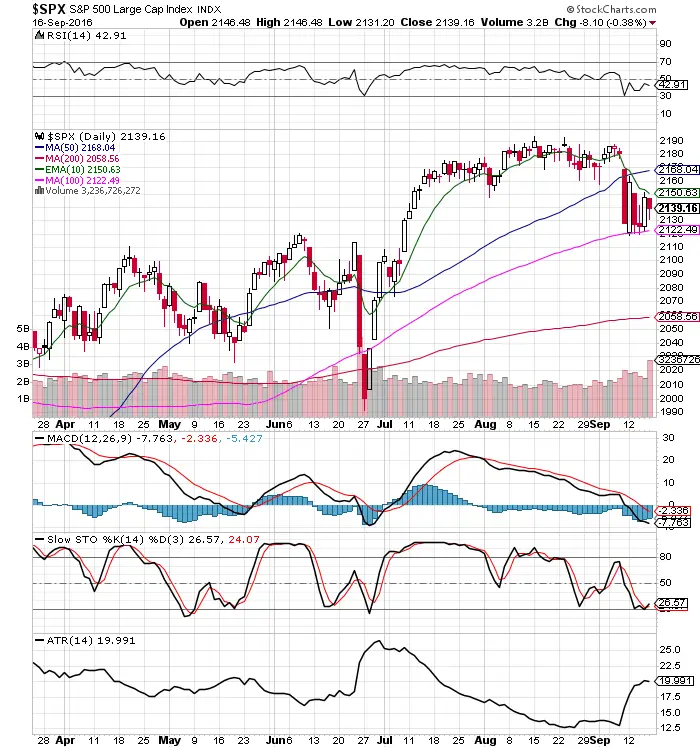 I am using the $SPX chart this week due to the skew of the quarterly dividend payout Friday on the adjusted price. It is also possible to see the unadjusted $SPY price by using the ticker _SPY on stockcharts.com.
$SPX is trading in a price range of 2120 support and 2150 resistance.
The 10 day EMA continues to be a key level of short term resistance. Price breaking and closing above the 10 day EMA would be a sign of a possible resumption to new all time highs if we get it.
RSI is still on the weak side at 42.91. Plenty of room for more upside. The 30 RSI should provide key support in overbought territory if we break to the downside next week.
The MACD continues to stay with the bearish crossover.
The shorter timeframe Slow Stochastics had a bullish crossover Friday.
The expanding ATR shows the potential for a good trading range to continue next week.
The 100 day SMA continues to provide support so far.
Very high volume Friday on the down day but price held all key support levels.
The most important levels on the chart have been 10 day EMA snap back rallies and bounces off the 100 day SMA. A breakout of one of these levels could signal the next direction for a trend.
I am currently long $SPY from the Friday close with my stop loss with a close below the 100 day sma. My first target the 10 day ema.