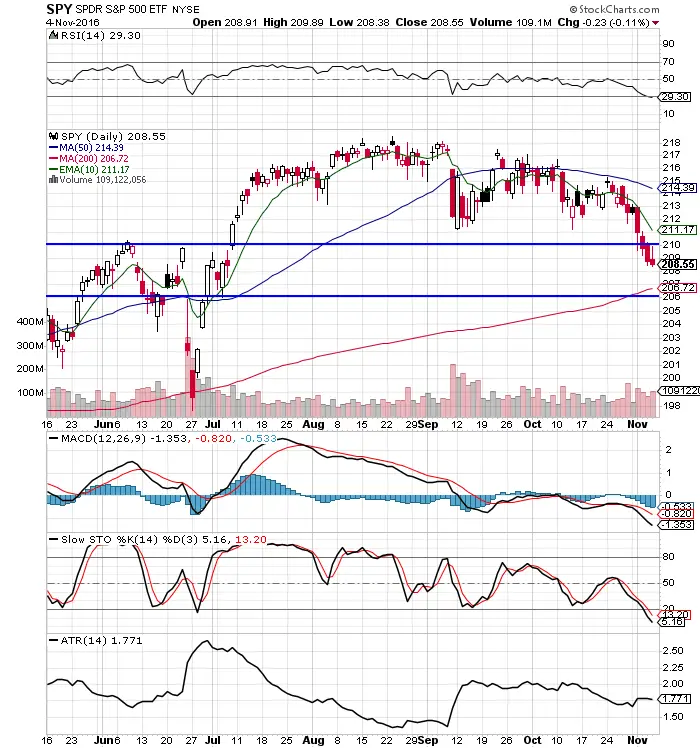 The stock market seems to be correlated to going down when the probabilities of Trump being president go up and going up when the probabilities of Hillary being president go up.
The $SPY is already in oversold territory closing with a very rare 29.30 RSI. We are near the bounce and rally zone the danger is we go lower first and fast. Closing under the 30 RSI opens the danger of a crash after a failed rally Friday.
MACD and Slow Stochastics are both under a bearish crossover.
After the old $210 support being lost it became the new resistance last week.
The next key support in price in $SPY is $206.
The next key moving average support level is the 200 day SMA.
I am bullish for a bounce and looking to buy a deep dip and extension from the 10 day ema. I would be a buyer f $SPY in the $206/ 200 day SMA price range.
Monday and Tuesday could be a risk off event and it is possible to see strong selling in front of the presidential election results.
If we go into the election results extremely oversold the odds are we rally on the election results. We went into the Brexit results overbought and crashed on the results.
$VIX has gone up 9 days in a row, the longest up streak in history. 2008 was more volatile going both up and down. 2016 has had many streaks of $SPY going straight down .
Volatility Index rises for the 9th consecutive day, the longest up streak in history. $VIX pic.twitter.com/LWOABYLjRy

— Charlie Bilello, CMT (@MktOutperform) November 4, 2016