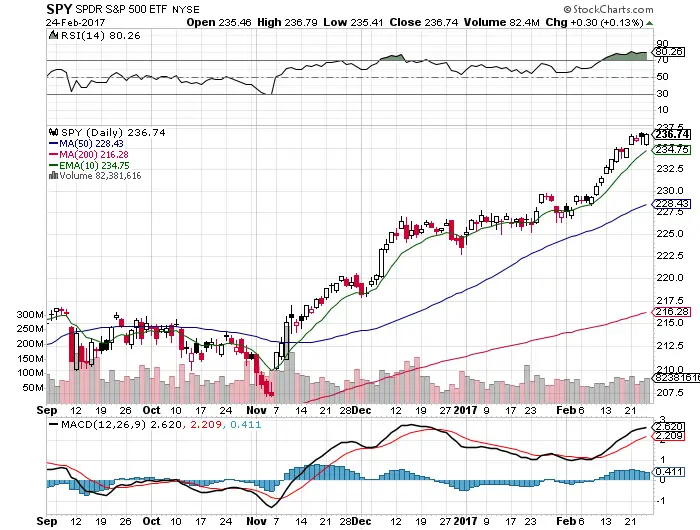 $SPY continues in a strong uptrend with price above all moving averages both short term and long term.
MACD is holding a strong bullish crossover.
RSI is extremely overbought at 80.26 which is historically rare and showing that short term the market will likely consolidate at these elevated levels.
Price is extended far from all moving averages and they are stretched and extended from each other favoring a pullback to the 10 day EMA next week.
50 day SMA breadth still showing bearish divergence — about 1/4 SPX stocks still trading below their 50 day SMA. – @Callum_Thomas
S&P 500 ended the week at another all-time high. No other major country has hit a new high since May 2015 (in US $). – @CharlieBilello

$SPX

Daily data from Jan 1950, this month(to-date) is the 8th-lowest % of down sessions in a month. 1st occurrence in 27 yrs. –

@

Techs_Global

 

S&P 500: 48 straight days without a 1% intraday move, the most peaceful market in history -@CharlieBilello
When

$

SPX

up in both January and February, it's up the full year 27 of the past 27 times since 1945 by average 24% (from CFRA)- @ukarlewitz
This market continues to reward buy and hold investors and trend followers or buying every small quick dip in the indexes. We are in one of the most powerful bull markets in history for speed and momentum in big cap stocks.