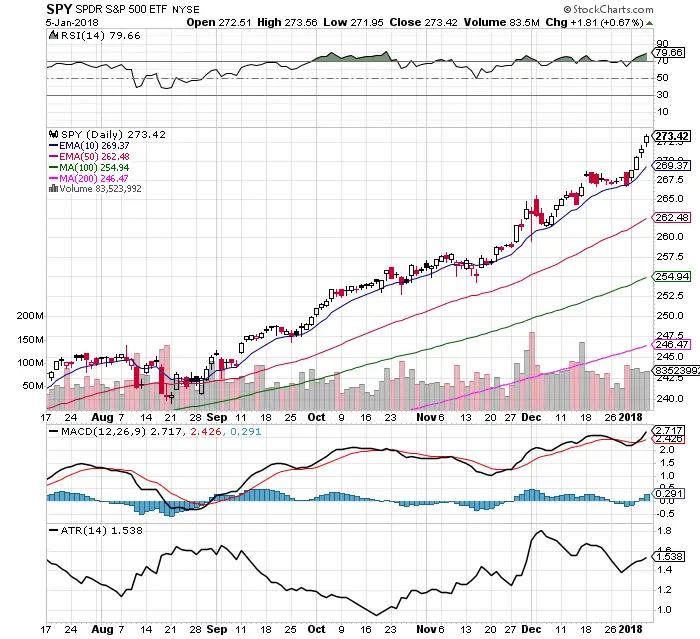 $SPY continues to press higher to new all time highs. the most bullish signal as all people holding $SPY are sitting on a profit. No stop losses are trailing stops are hit at all time highs, the only selling pressure is profit taking while short sellers are pressured to buy to cover.
The 10 day SMA has been the key end of day support for over 30 trading days.
RSI remains overbought and parabolic at 79.66.
The average trading range expanded to the upside last week after the breakout to all time highs.
There was good volume on all four up days last week showing signs of accumulation.
There was a fresh Bullish MACD crossover Wednesday.
$VIX is back at an incredible low of 9.22 showing cheap put options on $SPY and little fear in the market of a pullback much less a crash.
S&P 500 up 2.6% after 4 days in 2018, best start since 2006. Since '50, 12 other times a year started >2.5% after 4 days. Full year higher 12 out of 12 with an average return of 18.6% and median return of 18.2%. (Via @RyanDetrick)
Leading stocks like $FB $AMZN $NFLX & $GOOGL are back to new all time highs.
Holding long positions continue to be the easiest way to make money in this relentless bull market.
My current positions remain long $IWM $IWC $ERX $BIB and $QLD