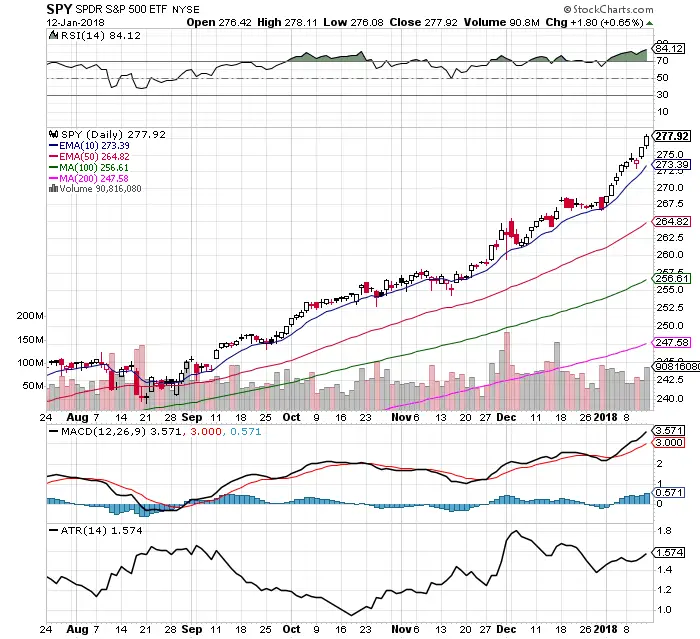 $SPY continues to make new all time highs in price. This is the most bullish signal.
The average true trading range continues to expand but the move is all to the upside.
MACD remains under a bullish crossover.
39 straight trading days with a price close over the 10 day EMA. This is incredible strength in an uptrend with little downside volatility.
A parabolic overbought reading at the RSI 84.12 is astounding and historical. This breaks all historical RSI trends and renders this overbought indicator of no help in this trend.
Trend following systems have done this best in this trend and beating buy and hold if leverage was used.
Trend trading

methods are in favor leaving swing traders on the sidelines with no pullbacks to buy.

Buy and hold investors are looking like geniuses again with the speed and magnitude of this move which has been captured well in the stock market indexes. Their only signals are buy and hold and keep adding.
$VIX closed up last week at 10.16 as a little more risk is priced in as the market becomes so extended. Volatility was to the upside last week.
The only S&P 500 sectors not pressing all time highs is Utilities $XLU and Consumer Staples $XLP this is very bullish action across all stock market sectors.
I continue to hold $ERX $UWM $IWC $QLD and $BIB trailing my profits with moving averages.
My current position gains are:
$ERX +41.6%
$IWC +5.92%
$BIB +12.81%
$QLD +13.05%
$UWM +23.95%