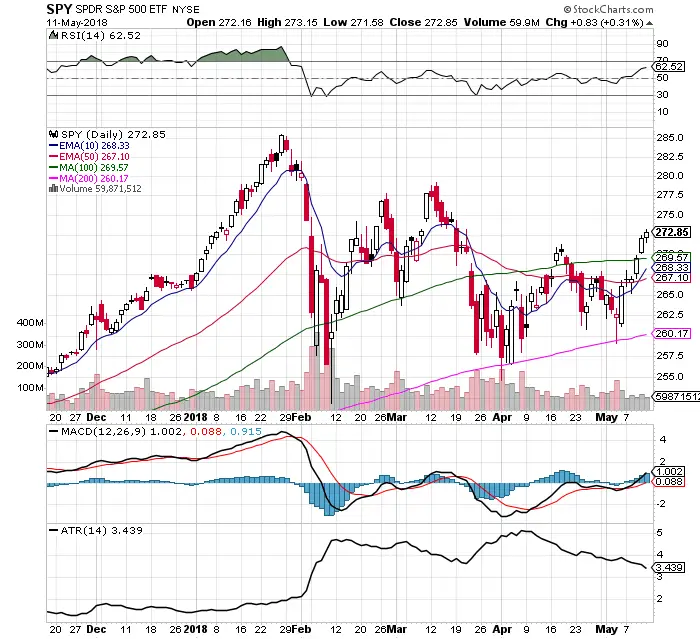 $SPY has closed at the highest price since March 16th, this is bullish.
Wednesday $SPY made higher highs and higher lows Wednesday through Friday. This is the definition of an uptrend.
$SPY had a bullish break over the 100 day sma last week.
$SPY had a bullish 10 day ema / 50 day ema crossover last week.
The RSI is bullish showing momentum at 62.52 with room to run higher before coming overbought.
The MACD is under a bullish crossover.
The average true range continues to decline to $3.43. This is bullish.
$VIX had lower highs and lower lows last week falling under the 200 day sma and ending lower at 12.65.
Price went higher last week in lower volume but each day has been higher over the past 6 trading days.
Currently the $SPY chart is bullish.
I am currently long $UWM, $QLD, and $SSO.
I'm long $UWM @ $72.39 with the 10 day / 50 day Sma crossover

— Steve Burns (@SJosephBurns) April 16, 2018
I'm long $QLD here @ $80.21 on the $QQQ 5 day / 20 day crossover. pic.twitter.com/IuKmYAdhzV

— Steve Burns (@SJosephBurns) May 4, 2018
I'm long $SSO @ $111.49 after the $SPY 10 day / 50 day EMA bullish crossover.

I'm also still long $UWM & $QLD from last week.

— Steve Burns (@SJosephBurns) May 10, 2018