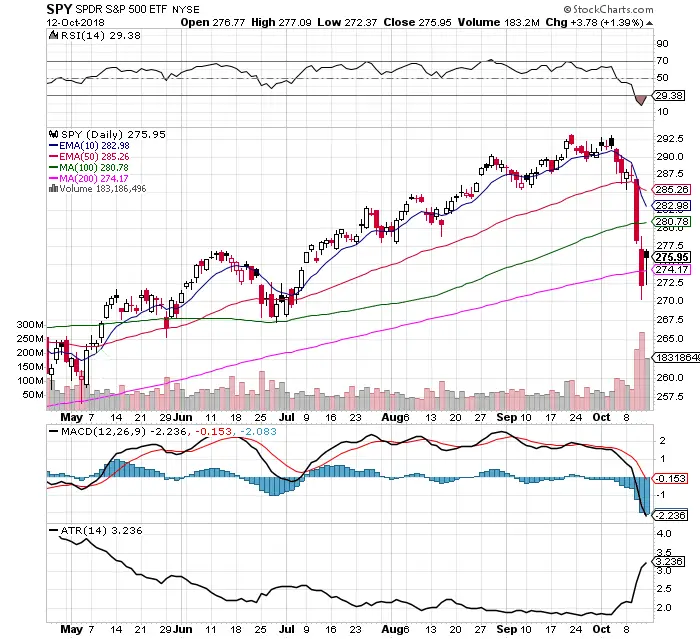 Chart courtesy of StockCharts.com
$SPY closed back over the 200 day SMA Friday triggering a bullish entry signal. 

A close below the 200 day SMA would negate the bullish signal Friday. 

Friday was an inside trading day with prices inside Thursday's range. 

Friday had the highest volume up day since the reversal out of the first correction on February 9th marking that short term bottom. 

The VIX stayed above the 200 day SMA last week and is under a 10 day / 30 day EMA crossover signaling an expanding volatility environment. Put option contract in the S&P 500 are now more expensive based on the fear and increase in the Vega pricing. 

The trading range expanded to a 3.23 ATR the largest trading range since May. Giving day traders and swing traders more room to work. 

The RSI is oversold with a close below the RSI 29.38. It is dangerous to be below the 30 RSI, but a close above the 30 RSI is a reversal long signal. 

A new 10 day / 50 day EMA crossover would be a new long side trend signal. 

$SPY is a good risk on position in this environment due to the exposure to the utilities, consumer staples, and healthcare could help limit any further losses if this upswing does not materialize. 

Money is made during corrections by the people that have the cash and the plan on how to get back in before the next upswing happens.