This is a Guest Post by Jake @TrendSpider. 
In this weekend's analysis, we take a look at the broad market ETFs and how the "Raindrops" are looking into next week. Learn more about Raindrop charts and the platform in general, make sure to sign up for our webinar this Sunday evening at 6 PM EST! Click here to sign up!
Weekend Video Analysis
---
SPY: Daily vs. Weekly Chart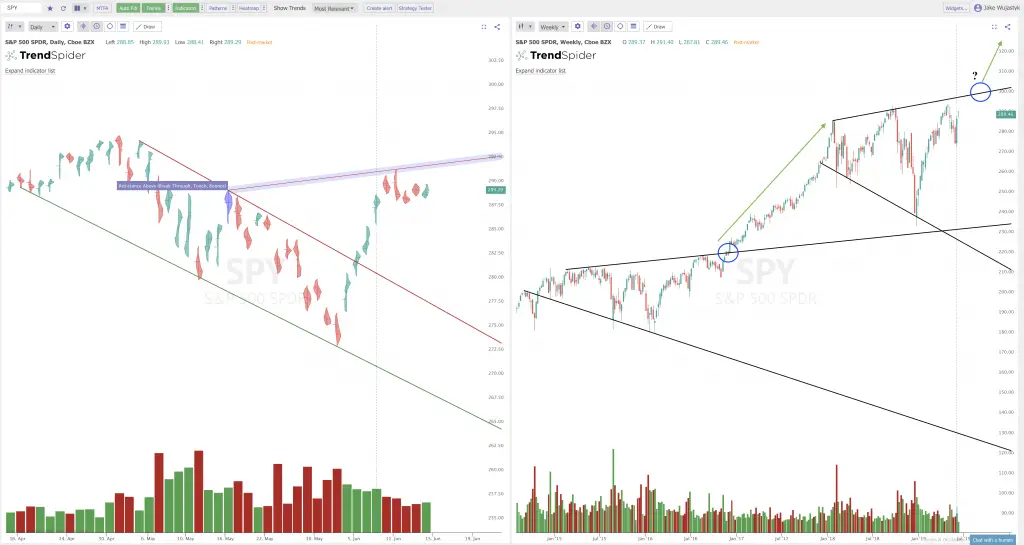 ---
QQQ: Daily vs. Weekly Chart

---
XBI: Daily vs. Weekly Chart
---
XLF: The Power of the Blue Raindrop
In this weekend's before and after, we take a look at a very cool "Before, Middle, and After". In this image, you can see a blue raindrop form on the falling wedge support with a strong breakout afterward. Once the move has been made, a blue Raindrop (TM) then forms right at the 23.6% Fib level which triggers the sensitivity alert that was on this area. A pullback then takes place to the 38.2% level below.
Before
Middle
After
---
Related Blog Posts
---
TrendSpider is a new type of charting platform designed to help active traders make smarter trading decisions by automating the grunt work they normally do by hand. It is the first (and only) charting system to offer a fully-customizable automation engine and patent-pending dynamic price alerts on indicators, trendlines and complex multi-conditional criteria on top of a charting system. Through these features and others, TrendSpider helps active traders find better trade setups, faster, with greater accuracy, while improving their trade timing. Here is the link to check this charting service out—–-> https://www.trendspider.com/
Enjoyed this blog? Make sure to click on the links below to follow us on social media for intra-week chart updates:
StockTwits
Facebook
Twitter
LinkedIn
REMEMBER: These are charts that have interesting technical setups based on automated technical indicator analysis included. Charts and analysis provided for educational reasons only. TRENDSPIDER IS A CHART ANALYSIS PLATFORM. IT IS NOT INTENDED TO BE TRADING OR INVESTING ADVICE. ALWAYS DO YOUR OWN DUE DILIGENCE USING MULTIPLE SOURCES OF INFORMATION AND/OR SEEK THE ADVICE OF A LICENSED PROFESSIONAL BEFORE TRADING OR INVESTING. Please read our full risk disclaimer on our website by clicking here.