This is a Guest Post by Jake @TrendSpider
In this blog post, make sure to check out the top 5 TrendSpider charts posted this week on social media as well as the link to sign up for this Sunday's show at 6 PM EST!
"The Trading Pit" with Steve Strazza, Technical Analyst at Allstarcharts.com
---
Subscribe to our YouTube Channel For Weekend Updates & Continuous Content
---
Top 5 TrendSpider Posts This Week
$UBER from https://t.co/RfWl9yJKRP https://t.co/uskTwnF1Li @alphatrends #vwap and the volume price shows that the sentiment is positive for this stock going into #earnings.

— BlueMoonTrades (@BlueMoonTrades) May 7, 2020
---
$DAL hanging new lows https://t.co/xunAI6GEGM

— Fire Trading (@FireTrading_) May 7, 2020
---
$AAPL going for that Gap Fill that started Feb24th $304 magnet now very strong backed with #OptionFlow chart software @TrendSpider love the #GapSnake Indicator check em out! pic.twitter.com/RbEkb5XY1A

— Stock_Hunter (@Stock_Hunter89) May 5, 2020
---
$MUB #Munis pic.twitter.com/ymmXxDMdm0

— philofthefuture (@fillofthefuture) May 1, 2020
---
---
$NAT Nice bounce off of former resistance. Good enough for me w stop under today's low. pic.twitter.com/pHr7i7zh75

— Gregory Krupinski (@G_krupins) May 7, 2020
Broad Market Charts Using TrendSpider
SPY: Daily vs. Weekly Chart

QQQ: Daily vs. Weekly Chart

IWM: Daily vs. Weekly Chart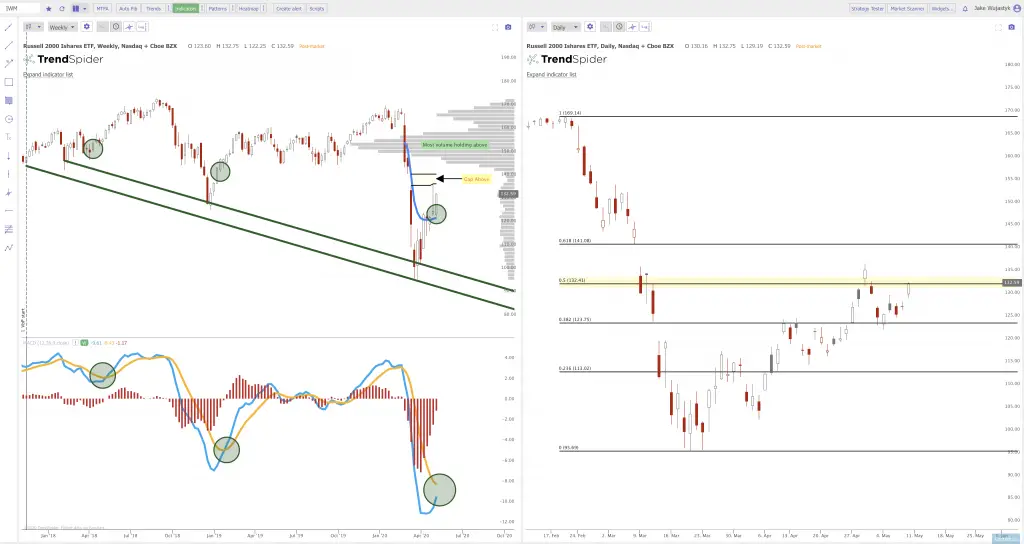 ---
Related Blog Posts
Check out our supplemental blog posts below:
---
Enjoyed this blog? Make sure to click on the links below to follow us on social media for intra-week chart updates:
StockTwits
Facebook
Twitter
LinkedIn
REMEMBER: These are charts that have interesting technical setups based on automated technical indicator analysis included. Charts and analysis provided for educational reasons only. TRENDSPIDER IS A CHART ANALYSIS PLATFORM. IT IS NOT INTENDED TO BE TRADING OR INVESTING ADVICE. ALWAYS DO YOUR OWN DUE DILIGENCE USING MULTIPLE SOURCES OF INFORMATION AND/OR SEEK THE ADVICE OF A LICENSED PROFESSIONAL BEFORE TRADING OR INVESTING. Please read our full risk disclaimer on our website by clicking here.