On February 27th $GOOGL broke out over the key 200 day moving average.

The day finished with a reversal candlestick, so I waited to enter on a pullback to the 200 day, or a continuation above the February 27th close. 

On March 2nd, $GOOGL gapped over the close and continued up. I went long that morning with a weekly $565 strike call option when the price was close to $565; I paid $585. I was only looking to risk Theta with this purchase, and still get maximum Delta to capture much of the move at-the-money.

By the close of the next day, $GOOGL was setting near $580, and I sold my call option for $1,424 in a trade that lasted two trading days. This was an $839 profit for this small trade. I lost two days of Theta value, but picked up $10 of the $15 price move in $GOOGL.
Full disclosure: I entered a second $GOOGL option trade on March 4th; a $577.50 strike weekly for $565 when the price was near $579. I sold the next morning when the market sold off after the payroll report when $GOOGL was near $577. I lost $220 in this second trade. I also avoided the drop that followed in $GOOGL and the market as a whole.  In weekly options it is crucial to take profits while they are there. Time will not bail you out in most cases.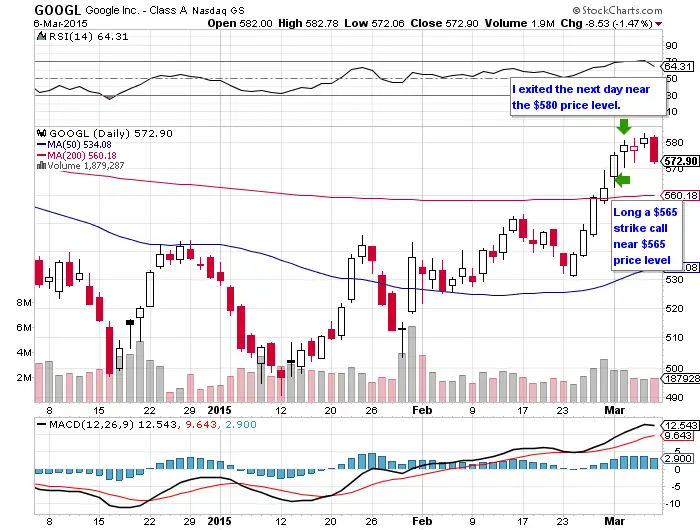 Chart courtesy of stockcharts.com

I am now holding $GOOGL long here via weekly $565 calls @ $5.80. My stop is a $GOOGL close below the 200 day.

 

— Steve Burns (@SJosephBurns) March 2, 2015
I just sold my $GOOGL weekly $565 strike call options I bought for $5.85 for $14.24 — Steve Burns (@SJosephBurns) March 3, 2015