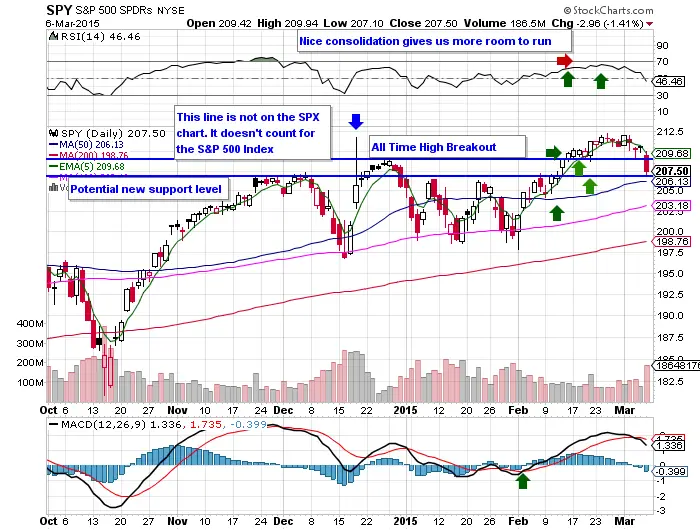 Chart courtesy of stockcharts.com
The long term uptrend is still in place.

$SPY pulled back and found support on the previous all time high breakout from late 2014. (This resistance/support line has been on my chart for weeks. It was not drawn this morning).

There was a bearish MACD cross on Thursday that was confirmed by the drop Friday.

The RSI dropping below the 50 RSI puts us on the weak side of the RSI line and shows the loss of momentum for now.

The fact that the stock market sold off so strongly on the great job numbers is something to watch out for as a change of market dynamics. Price will have to confirm with the inability to make new highs.

The odds here favor a pullback after the recent run.

The key bounce zones to watch is first the 50 day sma.

If the 50 day is lost then the 100 day sma or the 30 RSI zone would provide a great risk/reward ratio trade set up.

This is currently just a normal pull back with an old breakout becoming a new support level.

If you want to sell short then realize downtrends are more difficult because they are more volatile and have many false rallies back to old resistance.