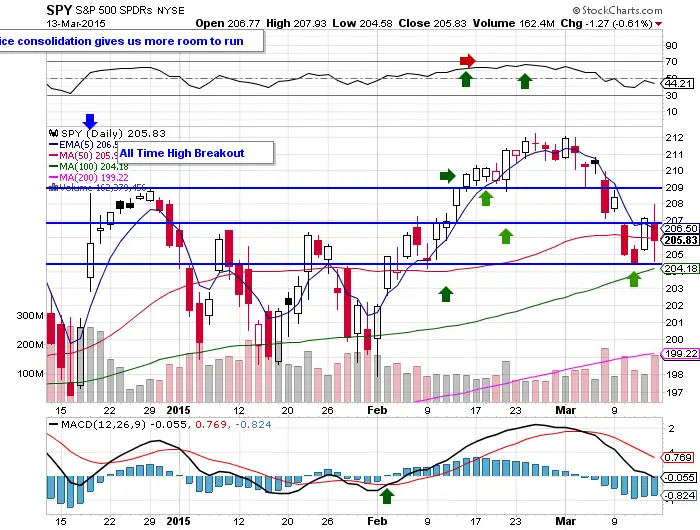 Current support is the $204.50 that held Wednesday and Friday.

It would not be a good risk/reward to short a break under the $204.50 price level as the RSI will be in the thirties if support is lost and in the oversold rally zone.

$207 is our near term resistance. A break above this level would be a momentum long signal we have room to run higher above the 50 RSI to the high RSI 60's.

The next level of support is the 100 day sma.

If we rollover Monday under the 100 day then the 30/35 RSI level present a great risk/reward swing long position.

$IWM filled the gap Friday then rallied back off lows of the day while $QQQ held the 50 day this week. The small caps and tech sector are outperforming the big caps but other 'risk on' indexes holding these key levels bodes well for the stock market overall.

The MACD line convergence after the bearish crossover has become extreme and the $SPY could rally back from here next week.

In the last 10 days the 6 down days have all been on higher volume than the 4 up days.

The breakout Friday of both Thursday's high and low of the day shows the uncertainty here of participants.

I am looking to buy a swing low and think an RSI reading in the low 30's sets up a great risk/reward ratio if we get there to target the $207 price level from.