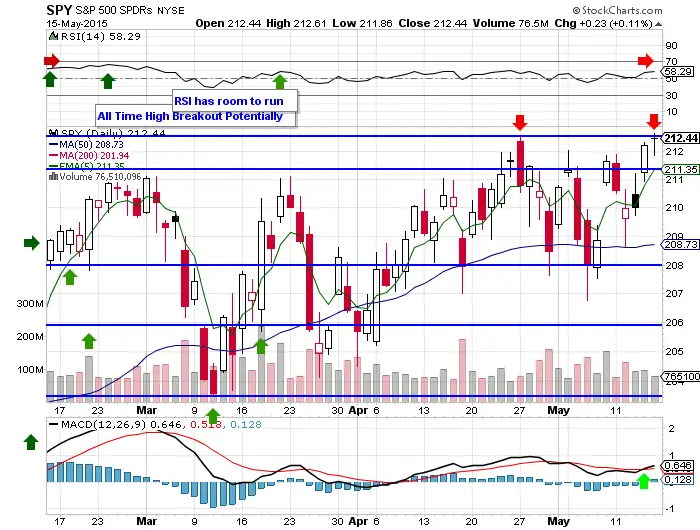 Chart Courtesy of StockCharts.com
2015 has been the year of tight price consolidation. $SPY is up 3.36% year to date, making it difficult for index traders to trade the tight range. Dips are not deep enough, and momentum signals have not worked as strength has been sold.
$SPY was able to finally clear an old resistance level at $211.35, but ran into resistance at all-time highs.
$SPY had a bullish MACD crossover Thursday, but it happened as a momentum signal near resistance instead of a reversal signal off support levels. This type of momentum signal has not worked this year so far.
With $SPY at a 58.29 RSI and $DIA at a 60.61 RSI, there is not a lot of upside left for big caps. This is generally the overbought levels that big caps have had trouble with all year.
The $SPY bounced off the 50 day SMA on Tuesday, but it needs a deeper dip and price consolidation to give us better odds of a new move higher. The chart structure puts the odds on more consolidation and range trading.
$AAPL, $GOOGL, $FB, $LNKD, $TWTR,  and $PCLN are not performing well. Making all-time highs with very little market breadth is not healthy for a bullish environment.
The leading sector ETFs are currently, $XLP, $XLB, $XLF ,$XLI , and $XLK. The problem is a lack of strong leading stocks.
$GLD and $SLV are showing strength breaking over their 200 day SMAs.
The U.S. Dollar is heading back to it's 200 day SMA. : $UUP
$USO is consolidating price, and has found support on the 21 day EMA.