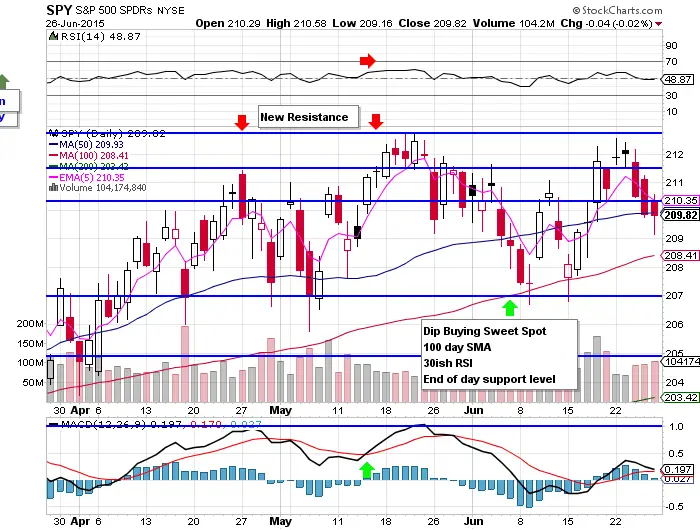 The long term resistance line held last week at $212.75.

This is still a range bound stock market in 2015, with a 2.08% year-to-date return in $SPY.

Many of the stock market sectors are no longer trending up, but are caught in the 30-50 RSI range. This is a warning of potential distribution, and the possibility of a total market correction.

$XLI is under the crucial 200 day SMA. This is a crucial line for this more broad representation of the big cap industrial index, versus the 30 stocks in the DJIA.

The Transportation sector, $IYT, has been in a steady downtrend since March. This is  a sign of impending trouble for the major stock indexes.

42% Of Stocks Are In Correction. The market breadth is terrible, with a few stocks holding up the whole market. This is a warning sign.

The MACD is currently holding the bullish crossover, but will have a bearish crossover on one more down day.

The RSI at 48.87 is the beginning of the downside of the chart.

It is not the Greek headlines themselves that will move the market, but the fear that will be moving prices. Perceptions are everything. The Greece event has been a possibility for years, and large national debt defaults have happened many times over the past 100 years. Anyone in the financial world that has not planned for this outcome, and is exposed to leveraged risk to Greece, deserves what they get.

I will be trading price action Monday morning based on my systematic approach, and not based on what I think may happen with Greece. I hope the market finally gets the deep dip to an oversold level so I can buy. I have been waiting for that all year. My wishlist target would be a 30 RSI on the $SPY.