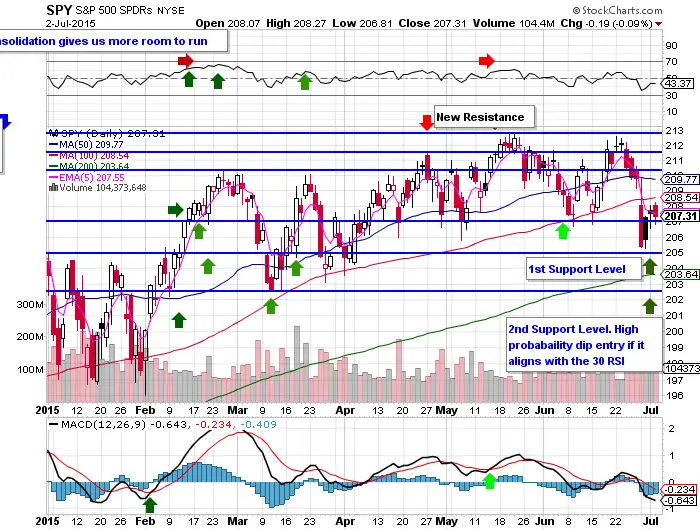 $SPY continues to be range bound in 2015, with a .86% year to date return. In this market, buying dips and selling rips has been where the money is made. Buying weakness and selling strength.
In range bound markets, horizontal trend lines are can be traded based on previous support and resistance, as seen in this chart.
The next four levels of potential  support are $205 based on a previous resistance, the 200 day  SMA, $202.51, and the 30 RSI.  I will be a buyer of any initial drops to the 30 RSI.
The RSI is showing price weakness here.
The MACD is still showing a bearish crossover.
The price is in a short term downtrend, and under all key short term moving averages: the 5 day EMA, 50 day SMA, and 100 day SMA.
The stock market as a whole is not currently under accumulation, with new money pushing it higher. Stocks as an asset class are just being traded inside a range.
One reversal sign out of this price weakness would be a bullish reversal candlestick and close over the 5 day EMA, while a dip buying opportunity would be a dip to the 200 day SMA or the 30 RSI. This presents a good risk/reward buy signal.
For the past two weeks, morning price action strength has faded, as we start higher and end lower for the past 8 straight trading days. In downward trending markets, price tends to open up and finish lower due to distribution of positions into strength.
It will be difficult to continue with a sustained uptrend until the Greece headline is behind us. The chart will likely see high volatility until the market reaches a perception of a resolution on Greece.