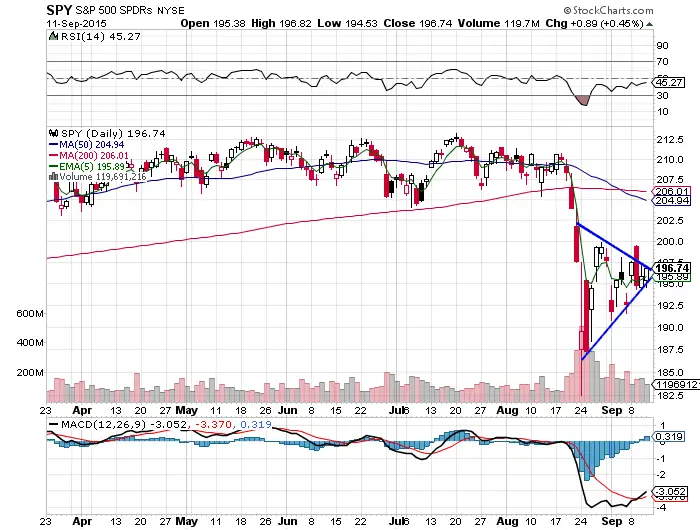 The $SPY downtrend stopped after the bottom 3 weeks ago, and $SPY has gone back to a range bound market.

The $SPY chart is currently forming a symmetrical triangle chart pattern.  There have been 15 days of lower highs and lower lows showing a range compression of prices. Which trend line we break first will give  us the first signal on the direction of the trend.

A close over $196.82 $SPY is a potential long signal for a rally back to the 200 day.

A close below $194.53 $SPY will be a sign of weakness and a potential return to year-to-day lows.

The MACD is giving a bullish signal which indicates a potential rally.

The RSI is slightly bearish at 45.27, and this shows a lack of momentum.

The 5 day EMA was not  respected as a trend indicator last week, with intra-day violations.

A $VIX 23.20 is not bullish, and we need to see $VIX go below 20 as one sign of lowered volatility and a new uptrend.

All SPYDER Sector ETFs are forming trading ranges under key moving averages. We will see if they break out or fail.

The $QQQ 200 day SMA  is another key resistance level. If $QQQ breaks out above the 200 day, it will be a bullish indicator for the stock market, and $SPY could follow close behind.