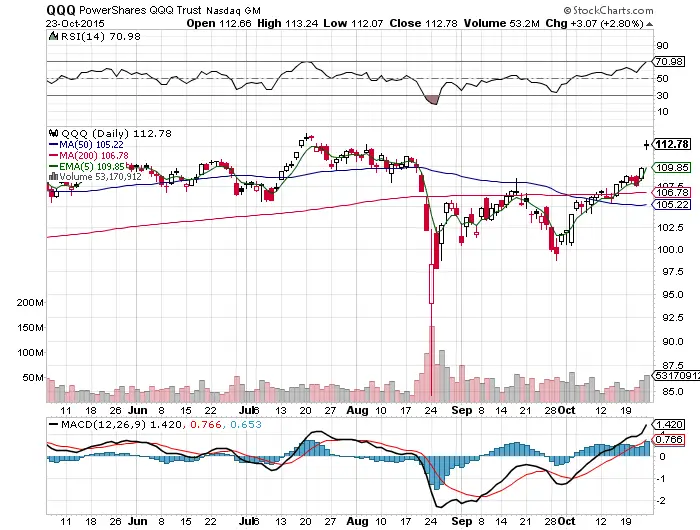 $QQQ and $DIA are both over their 200 day SMAs but also over the 70 RSIs the risk reward is in the favor of short sellers here. The charts look more like the top of a downtrend than the beginning of a new uptrend at this point in time.
Buying dips back to the 200 day SMA would provide a better risk reward for long positions than chasing here.
$116 has been the resistance on $IWM for 12 days. Even Friday's rally couldn't break it out. It is still far from the 200 day.
$QQQ at a 70.98 RSI does not leave much room for upside. $AMZN $GOOGL were the Friday catalysts but finished near the lows of the day. $MSFT also finished in the lower half of it's range. Their is danger that these stocks lose their gap day lows and fill these gaps over the next week.
While the RSI and MACD are both bullish and show momentum they are also both very extended and due to pullback.
All indexes are extended from their 5 day EMAs and the odds favor them pulling back to these lines this week.
The moves last week felt like a powerful up trend to many people but year to date $SPY is up +.96%, $IWM is down -3.15%, $DIA is down -.85%, and $QQQ is up +9.23%. Stocks are not under accumulation, they are still being traded. Buy and hold investors, long term trend followers, and the majority of growth investors have had a flat year in equities.
These are the kind of charts where it is called "chasing" to buy before a pullback.
We either pullback next week or $QQQ $SPY and $DIA go parabolic. The odds favor a pullback.
The short term trend is up over the past few months off the bottom, the long term trend is up over the past few years, but the intermediate term trend is still flat for 2015.