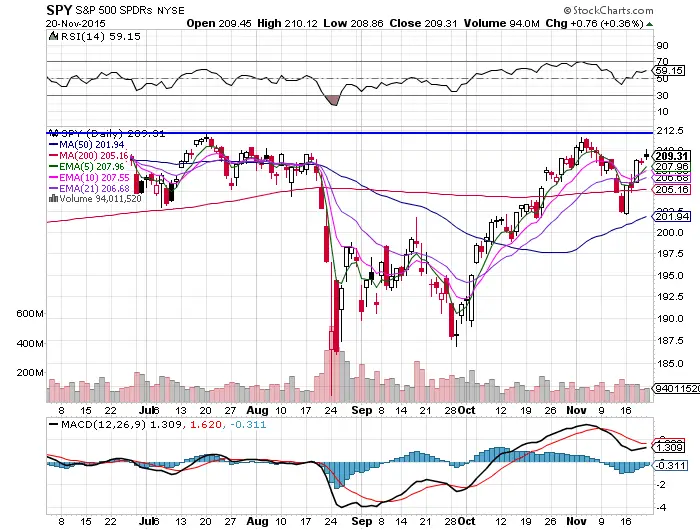 Recently the top 10 stocks in the S&P 500 were +13.9%. The other 490 were -5.8%. This is the largest spread since the late 1990s. This market continues to lack breadth. The leaders control the direction.
In swing trading markets, momentum signals fail for the upside and downside. On Monday the bulls stepped back into accumulating stocks with good reason to fear buying. In range bound markets, buying weakness and selling strength works when no trend is in place.
Buying on bad news is bullish. The tragedy of the Paris attacks didn't deter stock buyers.
Last week's strong price action put the possibility of a seasonal Santa Clause rally back in play for the end of the year.
More significant domestic or international events would have to create a big enough ripple to break the bull's confidence. Right now, the market believes it is under control.
All short-term moving average are back over each other. The 5-day/10-day/21-day EMAs are currently confirming momentum.
There's a high probability that momentum could take us to $212 resistance, with a possibly of all-time highs.
The 50-day SMA is starting to slope up. This is bullish.
The 20o-day has gone flat which shows how range bound this market has become in 2015.
RSI is back to a bullish 59 and the MACD is on it's way to a bullish crossover.
I am currently long $SPY with a stop loss if it closes back under the 10-day EMA.