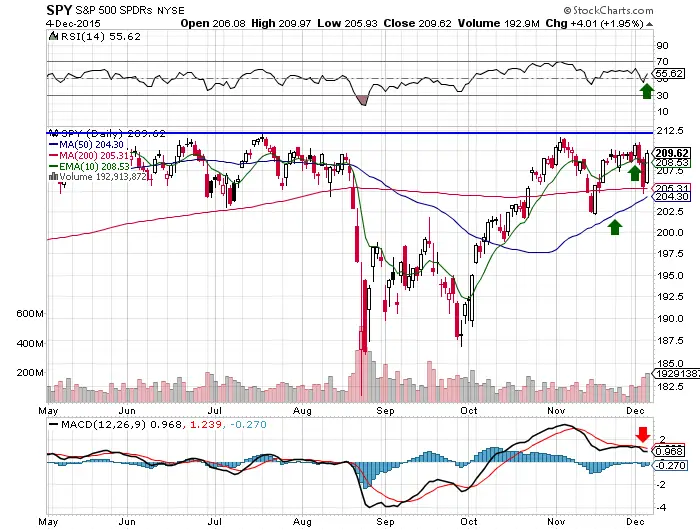 Very strong bullish daily candlestick on Friday that overtook the Thursday high of day. A bullish candlestick that large leads to higher prices the majority of the time.
Friday bounced strongly off the 200 day support Friday. The 200 day has gone flat but it is bullishly constructive to be above it.
The 50 day SMA is ascending to the upside which is bullish.
$SPY broke back above the 10 day EMA Friday showing momentum to the upside.
$SPY is up 1.99% year to date and is set up nicely now to go higher into the end of the year.
The unadjusted resistance level on the daily chart is all time highs at $213.78. The odds are that this is broken before the end of the year. The more times that this level is tested the higher the odds that $SPY breaks out.
The RSI is bullish at 55.62.
The MACD is still in a bearish crossover after two failed bullish crossovers. It could crossover bullishly this week with one more strong up day and align with the other indicators.
The bull market is in tech and world changers $FB $AMZN $NFLX $GOOGL and $MSFT as they are near all time highs. $QQQ 11.52% YTD continues to be the strongest index ETF and $IWM -1.54% YTD the weakest. The overall market is stuck in a range and is being carried by a few stocks. The market as a whole is just being traded not accumulated in 2015. A broader market rally will be needed to take $SPY to all time highs and beyond.
December is seasonally bullish for stocks and the odds stay on the side of the bulls as long as the 200 day SMA is held as support.
Full disclosure: I am currently long $SPY and $BABA going into Monday morning,