---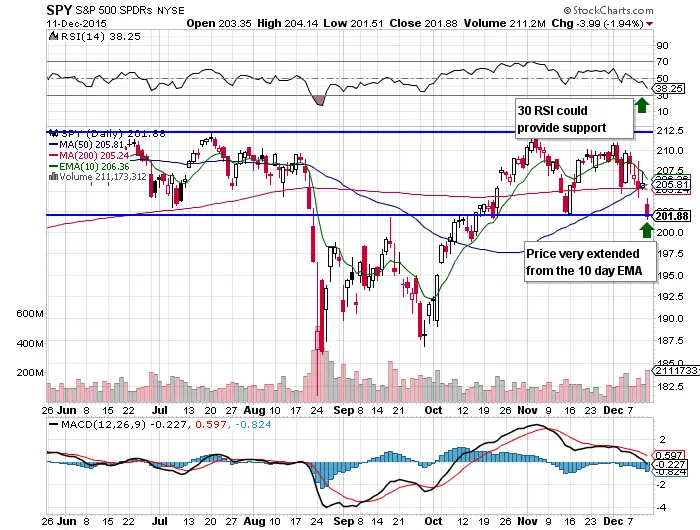 In 2015 momentum buy signals have failed consistently. The indexes have stayed inside a tight range. The stock market hasn't given up profits this year to buy and hold investors or trend followers. 2015 is a range-bound market not giving bulls or bears a trend that they could trade for more than a week.
The market continues to lack breadth with the top ten stocks in the S&P 500 up +21% and the other 490 stocks down an average of -3%. This lack of breadth has prevented the market from rallying to new highs all year, with the energy sector weighing it down.
The loss of the 200-day in $SPY gets me shorting strength on rallies back to the 200-day, and only buying the deepest dips into oversold territory.
The RSI near 30 next week will give a good risk/reward ratio dip buy for a trade on the long side. If we bounce here, the upside will likely be limited to the 200-day or the 50 RSI for $SPY.
$SPY price is extended over 2% from the 10-day EMA. Price generally returns to the 10-day EMA every 5 days.
The $NYMO is reading a rare -80, which was the same oversold level that it reached last December when the dip buying commenced for a nice rally into the new year. This increases the odds of a rally.
The FED holds the key to the price move. We are seeing a lot of people exiting their positions and going to cash in front of the FED next week, and if rates stay the same we could see a rally off oversold conditions. That would be convenient.
The $SPY MACD stays bearish.
The stock market continues to be traded and not accumulated. This has been the cause of bullish chart pattern failures and momentum buy signals causing losses consistently.
Due to the nature of the price range in 2015 momentum, signals have become short selling signals and maximum fears of a crash have been the time to buy the dip for a brief rally. Upward movement means we are going down and sharp downturns have meant we will go back up soon.
Full disclosure: I got stopped out of my long positions early last week and I have been flat with no positions. I am looking to buy the dip next week.