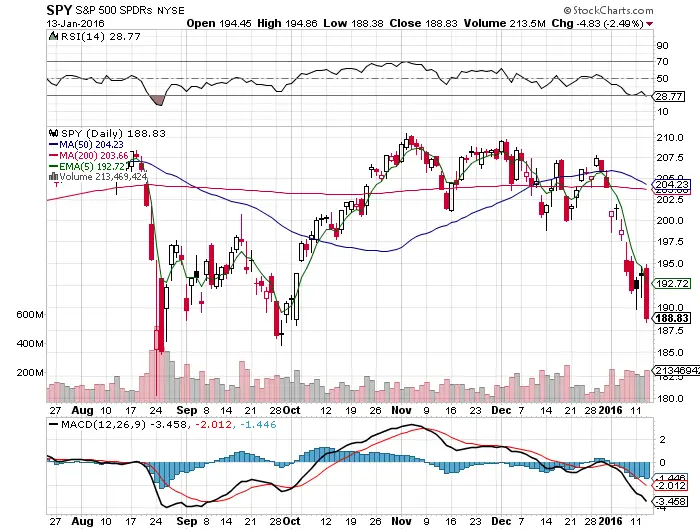 2015 was a range bound market that lacked breadth. A few stocks like Facebook, Amazon, Netflix, Google, and Microsoft held up a weak internal stock market. 2016 went into a quick correction of over 10% from all-time highs.
The energy sector and oil continues to go lower and lower. Small caps have fallen below 52 week lows in $IWM. High yield bonds have fallen to July 2009 lows. Markets have stopped bouncing at oversold levels and haven't found price support. This year has been a downtrend without support and without a bounce, just lower lows and lower highs. Stocks are under distribution.
I will let price be my guide. The simple trend following strategy I use with my retirement account took me to cash before 2016. All my dip buying signals in my trading account have failed this year. This is a much different trading environment than 2012-2015. This is a downtrend. My long side signals will not trigger again until I see the market price action change.
Here are the five things I need to see to start trading the long side again, and buy dips rather than selling rips short. I am bearish based on the past year of price action.
First, the $SPY has to close over the 30 RSI to show we are not going to be more oversold.
A rally back out of the 10% correction from all-time highs to being down less than 10%.
$SPY has to close over the previous day's high of day to show there are buyers; this happened but failed badly today.
$SPY needs to close over the 5 day EMA to show short term momentum. This has been intra-day resistance so far.
A close over the 200 day SMA will show that the correction is over, for now. In 2015 $SPY bobbed up and down over this line repetitively with no trend. Currently it has found a trend, down.
I am currently in cash and  looking to sell strong rallies short while shortening my time frame.