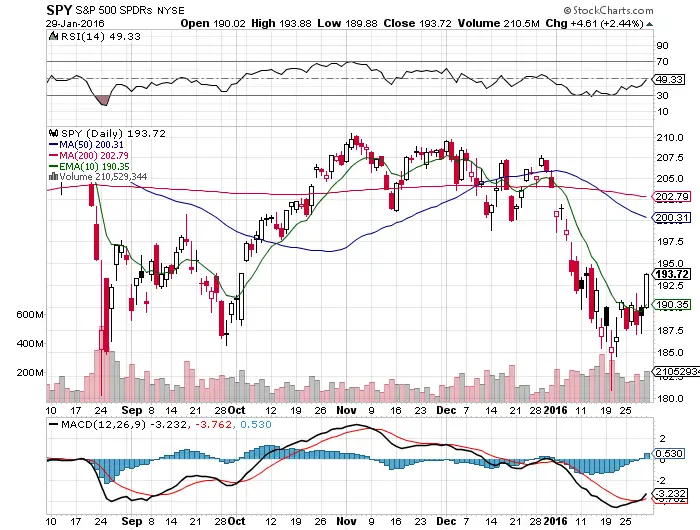 The market loved the surprising move by the Bank of Japan going to negative rates on Friday. This was the catalyst for the Friday move forcing short sellers to cover and momentum traders to chase the move.

$SPY had a MACD bullish crossover on Thursday before the huge up day Friday.

The 10 day EMA was not only broken above but price is extended far above this old resistance. Look for the 10 day EMA to be the new support if the up trend continues.

All key short term moving averages have been broken above: The 5, 10, and 21 day EMAs are now below the current price. The 50 and 200 day SMAs are still above and far away.

$SPY is now out of the 10% correction of 2016 but still down 5% year to date.

RSI is neutral at 49.33.

The Friday rally was on volume above the previous down days so we could see a rally sustained here for multiple days.

The odds are that Friday's price range will be the new $SPY trading range as it consolidates gains next week.

The VIX bearish cross was a great signal showing the $SPY bottom.

VIX at 20 gives $SPY more room to run higher.
Next week I will be looking to buy any dips back to key short term moving averages or sell short any extensions far above the 10 day ema. I am still trading small and short term here under the 200 day SMA.