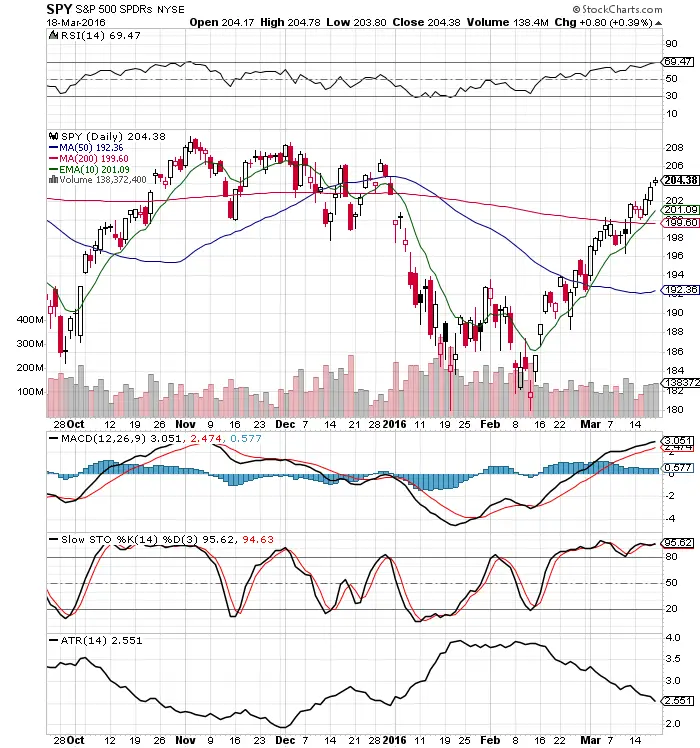 MACD Bullish
Slow Stochastics Bullish
Declining ATR Bullish
Price over the 200 day SMA is Bullish for the long term trend.
Price over the 10 day EMA is Bullish on the short term chart. However price is extended over 1 ATR above the 10 day. We could see a pullback to the 10 day EMA this week before we go higher. I will be buying that dip if it happens.
It will be difficult for price to go immediately higher with the RSI at 69.47. The odds favor some more consolidation at the $204/$202 price range this week before we go higher.
This strong rally off the double bottom and over the 200 day puts the possibility of returning to all time highs back on the table this year at $SPY $213.78.
Most SPYder sector ETFs are pushing their 70 RSI so the odds are on consolidation next week or a small pullback before higher.
The bulls are back in control of this market after the correction. I will look to buy pullbacks as long as the 200 day holds.
The strongest index ETFs are the big caps $DIA & $SPY benefiting from the oil bounce back. $QQQ is struggling at the 200 day and much weaker than the broader $XLK. $IWM was the weakest index ETF the past two weeks but still has the 200 day within striking distance.
Full Disclosure: I exited my large $SPY trade Friday for a nice profit in dollar terms. I will look to buy back with a $SPY pullback near the 10 day EMA. I am currently long $TQQQ with a stop on a close below the 200 day SMA.