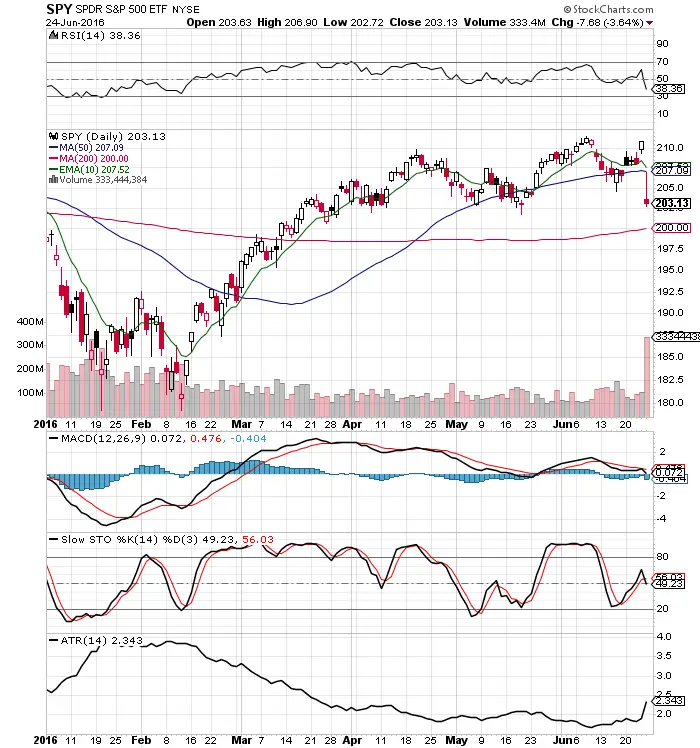 The Brexit was an unexpected event. Traders bets were overwhelmingly bullish and that Britain would remain in the EU even rallying the markets up in front of the risk event. Generally it is better to buy a big sell off in the markets in front of a risk event so when it does not happen the majority has to buy to get back in. The market had the majority in and wanting out when the unexpected happened.
This downward price action is being driven by fear not fundamentals. It could take over a year or more for Great Britain to leave the EU economic union and the real consequences of this event to be known. This event leads to Great Britain having to work out its own independent trade agreement with the EU and other nations. Switzerland and Norway are not in the EU and they are doing fine working out their own trade agreements, the world is not going to end on the Brexit. The fear here is that this destabilizes the Eurpean Union and that other countries will also leave. The risk is that countries become economically independent again like they had always been before.
The MACD is still under a bearish crossover.
The Slow Stochastics is still under a bearish crossover.
The 38.36 RSI is taking $SPY near the oversold dip buy zone.
$SPY price is extended almost 2 ATRs below the 10 day EMA. This increases the potential of a snap back upwards this week.
This Average True Range move upwards puts the odds ot range expansion and volatility next week as the markets digest what the Brexit really means for the future.
$VIX at 25.76 with a RSI 69.44 shows that we could be near the end of this initial selloff.
Swing traders should be looking for dip buy opportunities in their stocks of choice as good risk/reward ratios emerge on this sudden plunge.
The ultimate dip buy opportunity would be a confluence of the 200 day SMA and the 30 RSI with a 3 ATR extension from the 10 day EMA.
I am currently long $TQQQ going into Monday morning with a stop loss on a close under the 30 RSI in $QQQ. I am looking to buy a dip in $SPY with some size