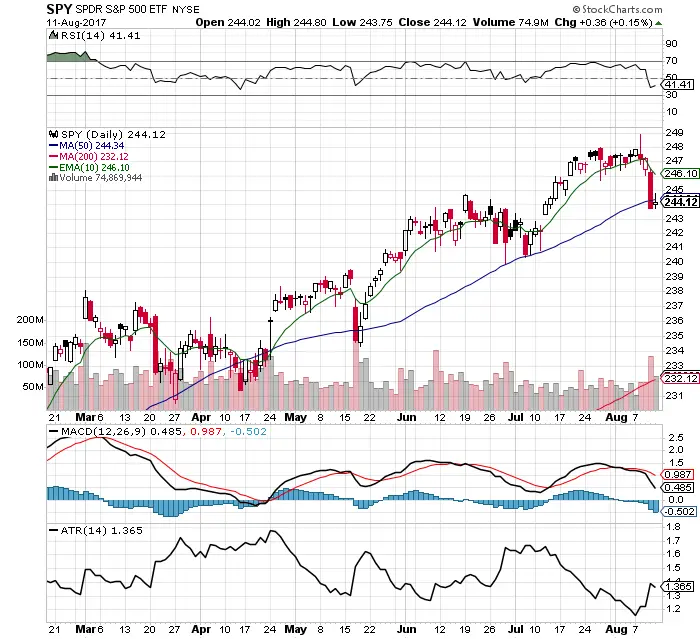 $SPY has fallen under the 50 day and this is a warning sign that we could see more of a pullback before new highs in price.
Price bounced near the oversold 35 RSI Thursday. 41.41 currently is near oversold. A return to a 30 RSI would be an ideal dip buy for a rally target to the 50 day SMA or 50 RSI for me. The 30 RSI is intraday support.
The MACD is under a bearish cross under.
Thursday lead to a huge increase in the daily trading range. Unfortunately it was all down.
In recent weeks down days volume has been higher than up days overall. This is a sign of short term distribution.
There was a huge spike in volatility last week with VIX in percentage terms from 11.08 to 13.66. Put options are more expensive now for protecting long term holdings. Last week appeared to be headline driven by North Korea and gave the bull market an excuse to pullback and reset.
$SPY price is far extended from the 10 day EMA and the rubber band is stretched. The odds are we see a snap back next week to the 10 day EMA at some point.
For the bull market to stay valid $SPY needs to close over the 50 day SMA next week and not close below the 30 RSI.
If North Korea clearly stands down we could see a huge rally this week.
Last week buying the small dip was punished. I stepped in and bought $GOOGL $AMZN and $TNA in the low RSI 30s last week. I am looking for a bounce back next week in this long term bull market.