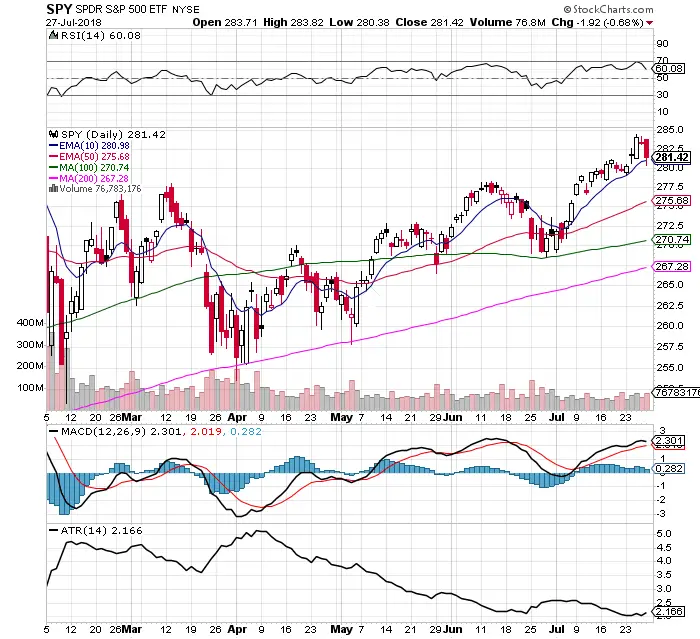 Chart Courtesy of StockCharts.com
Price remained above all key moving averages except the 5 day EMA, showing a loss of momentum.

The 70 RSI acted as end of day resistance on Wednesday.

The 10 day EMA acted as end of day support on Friday.

Last week has a small increase in the Average True Range of trading but stayed historically low.

MACD remains under a bullish crossover.

$VIX remains inside the weekly range at historical low levels as 13.03 after spiking higher Friday.

Volume continues to stay steady and consistent in both up and down days. No clues there.

Pull backs in other index ETFs $IWM and $QQQ may lead $SPY to a larger pullback.

Market leaders had historical sell offs last week Facebook and Twitter in instant bear markets dropping over 20%. this is not what you want to see with market leaders in bull markets. Amazon and Google had great earnings but did not trigger a sustained up trend in those market leaders.

I continue to look for pullbacks to buy and for trailing stops to take me out of the rest of my long trades $DDM and $FAS trend trades. I am currently long metal ETFs $AGQ and $UGL as they present better risk/reward ratios. Subscribe to my newsletter for full trade and analysis details on my watchlist three times a week. ->

My Technical Trading Newsletter.