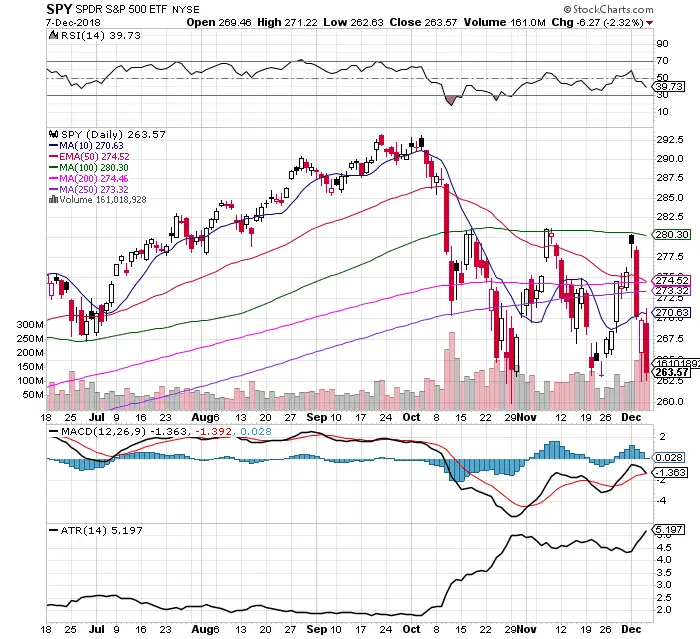 Chart courtesy of StockCharts.com
Last week the China Tariff news event was another sell the news event. This is the second sale the news event, the first was the mid term election relief rally was also sold into.

The chart is currently in a huge trading range inside a correction. The 100 day SMA held as resistance after the third test and $259.85 is the support at the current low in price.

The market is full of headline risk for both long and short positions as all it takes is a tweet or bad news to send the market strongly in either direction.

At 5.19 the ATR is at the year to date high as the daily trading range on the $SPY chart is huge. Great opportunities for day traders on the right side of the moves and big dangers on anyone caught on the wrong side.

The MACD has almost had a new bearish cross under.

The RSI at 39.73 has room to go lower before becoming over sold.

The last three trading days last week were on tremendous volume. Huge distribution of stocks as an asset class after the failed rally.

The VIX has continued to stay elevated at 23.23. The 200 day SMA has remained support for the VIX chart.

The leading S&P 500 sectors last week were Utilities $XLU up +1.55% and real estate up +0.32%. These are defensive sectors.

This is not a strong downtrend where it is easy to hold a short position that goes straight down this is a very volatile market that can move in either direction at any time with power.