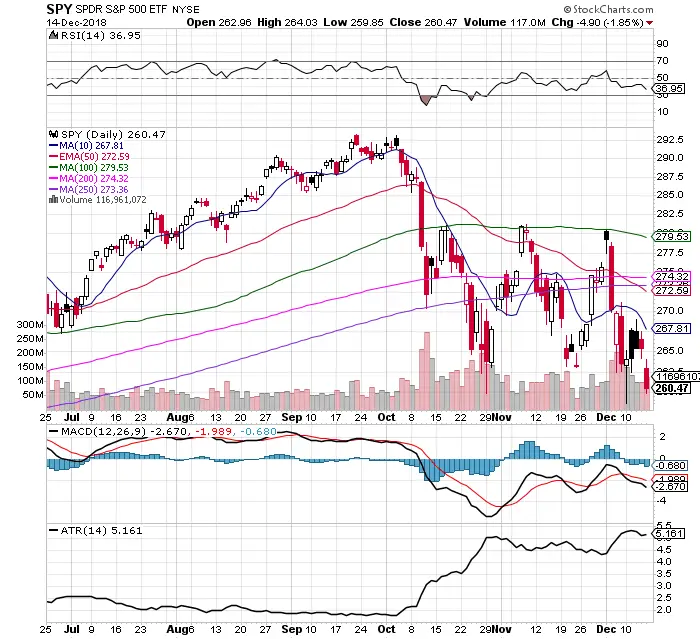 Chart Courtesy of StockCharts.com
Price is under all key moving averages. The 10 day ema has been the end of day resistance for 8 trading days.

All bearish moving average cross under signals are saying to stay in cash here. 

The RSI at 36.95 has room to go lower before becoming over sold. The 30 RSI reading could be a short term bounce zone or an end day support next week. 

The MACD has a bearish cross under here. 

We are trading in an expanding trading range as the ATR has trended higher to 5.16 as we have reached the highest ATR of the year. This is pointing to continued volatility next week.

The recent chart lows were broken Monday and the new $SPY support level is at $258.62 in this current wide range. A close below that low opens up more downside potential. 

The strongest sectors in the S&P 500 index continues to be the defensive sectors Utilities $XLU, Real Estate $XLRE, and consumer staples $XLP.

VIX continues to stay elevated at 21.63 as we stay in a market with expanding volatility. The lack of a bigger trend up in VIX shows continued complacency in the market with the dangers growing or a bear market and/or a crash. 

A U.S. government shutdown becomes the new bearish headline risk next week. Historically this has lead to market sell offs into the news and relief rallies after the government reopens or does not shut down at all. 

The effect of good news rallying the market has been diminishing in the fourth quarter. The danger is to the downside next week.