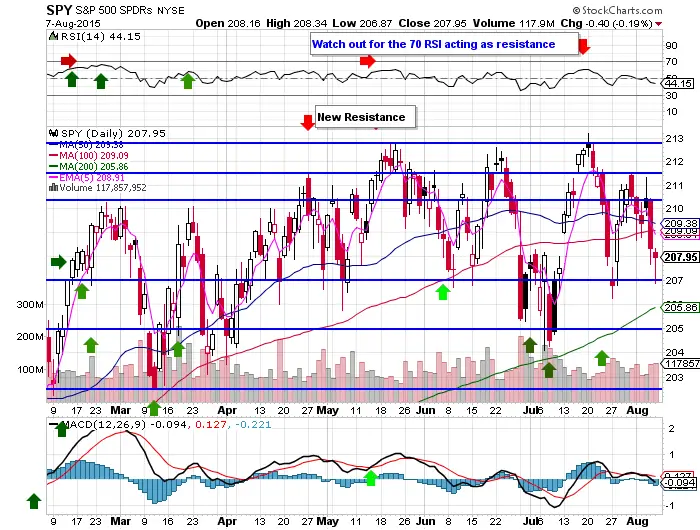 We are stuck in the middle of the 2015 price range. Swing trading is still the winning methodology in this market environment.
$SPY price is extended far from the 5 day EMA, and the odds are that we rally to this level next week.
MACD had a bearish crossover.
The RSI is showing weakness as the 50 RSI  acts as resistance and 44.15 is showing a lack of momentum.
Up days continue to be on low volume and down days on higher volume.
The $VIX is at 13.3 8 and has room to go higher with a volatile market.
The first sign of downside danger in the stock market has emerged with $DIA and $IWM both trading under their 200 day SMA. This activates my short selling models and I will be looking to sell rallies back to the 200 day SMA.
The path of least resistance is down. I will continue to look to short strong rallies and buy deep dips.
The $SPY potential bounce zones are the 30 RSI, $205 price support zone, or the 200 day SMA. Great risk rewards for long entries in these areas with defined stops.
Stocks as an asset class are not currently being accumulated or distributed. On the daily chart, this price action is a ping pong match between traders.