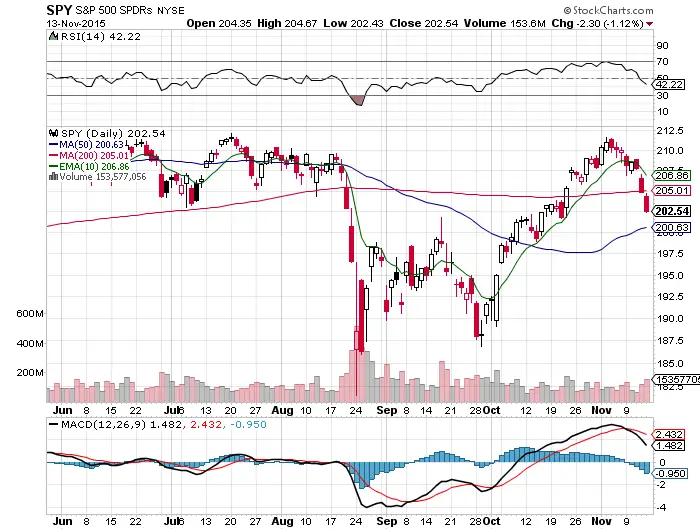 The stock market index ETFs remain flat on the year, $SPY down -1.46% , $DIA down -2.96%, $IWM down -4.64%, and $QQQ +6.38%. This leaves buy and holders, trend follower's equity positions, and investors down on the year after taking on all the risk exposure.
When stocks as an asset class are under accumulation, the indexes are pushed higher by people buying and holding positions. This year has been an exercise in trading stocks inside back and forth range. The majority of individual stocks have been distributed, pushing them down to 52 week lows.
$SPY $IWM and $DIA prices are back under the bearish 200 day line and $QQQ is the last survivor remaining above the line. There is a high probability that $QQQ falls under the 200 day.
$SPY, $IWM, and $DIA prices are under the bearish 50 day, crossing under the 200 day Death Cross, with only $QQQ having the 50 day SMA over the 200 day.
The bright spot this year for stocks has been the with $FB, $AMZN, $NFLX, and $GOOGL as they are consuming older industries that can't keep up with innovative platforms and new technology. They are the reason $QQQ is positive on the year.
$SPY had a MACD bearish crossover signaling a loss of momentum and a pullback last week.
The $SPY 10 day EMA trailing price support level was lost Monday and not recovered. This signals a change in the short term trend.
Down days are back to being on high volume and up days on low volume.
Seven out of the past eight days have been a lower close than the previous day's close on $SPY.
The RSI is weak and based on chart signals there is potential for further short term downside for stocks.