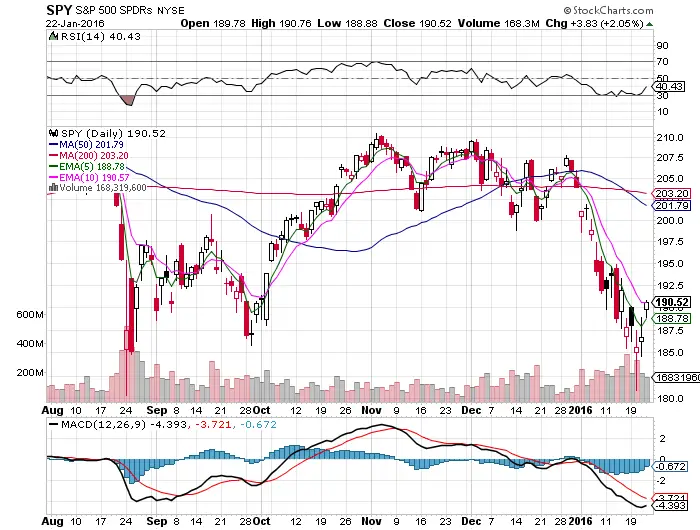 ---
$SPY broke out over the 5 day EMA Friday. This shows short term momentum out of the downtrend. This is an early bull signal, but only the first.
The 5 Day EMA held as support Friday. This level needs to hold to confirm this is a short term reversal.
Friday's up day was on lower volume than most of this year's down days.
The MACD is still bearish with no bullish crossover.
The RSI is still bearish with a 40.43 reading.
Under the 200 day is where bulls need to be more cautious with smaller position sizing until the 200 day is reclaimed.
Last week support was found near the 2015 crash low of $SPY $180.00
$SPY is still under a 50 day / 200 day SMA bearish death cross.
$SPY had a 5 day breakout to the upside in price.
It will not be as easy to trend back up, because there is a lot of selling pressure back up to the 200 day.
This was the first attempt at a bounce in 2016, and the next signal is to close over the 10 day EMA which was resistance on Friday. I am currently short from the gap up high on Friday, looking to cover on a pullback to the 5 day EMA. I'm holding $SPXU.