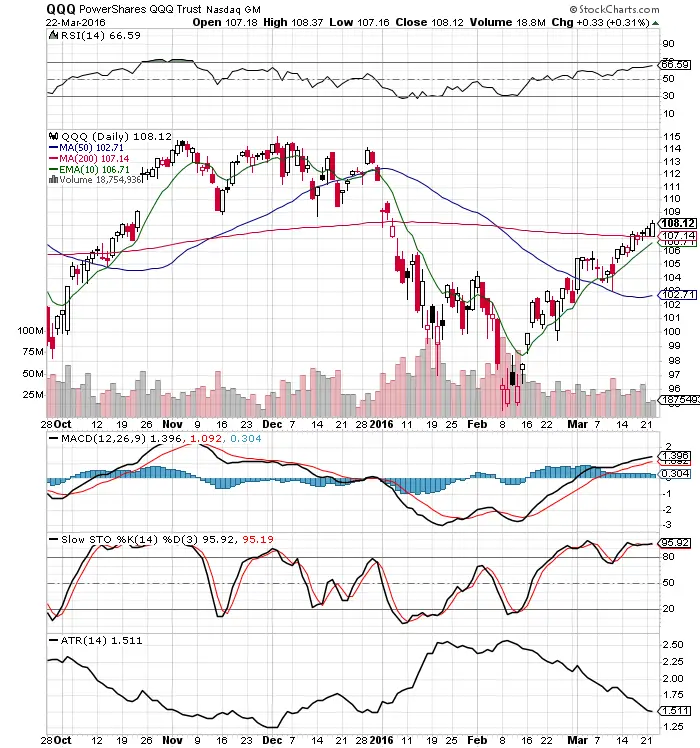 Bullish 66.59 RSI. Not much room to run without consolidation first. 70 RSI tends to be resistance in stock index ETFs.
Price is bullish and over all key moving averages. 10 day EMA, 50 day SMA, and the 200 day SMA.
The 200 day has gone flat and the 50 day SMA has started to turn upwards.
The 200 day SMA has acted as end of day support for the past 5 trading days.
Slow stochastics still holding its bullish crossover.
MACD is still holding its bullish crossover.
The ATR is bullish with sharply declining volatility.
The past two up days have been on very low volume. Returning volume will determine our next direction. The low volume should be troubling to bulls. We need to see a break out to new 2016 high prices with high volume for confirmation of the next possible leg up.
The major FANG components $FB $AMZN $NFLX $GOOGL have bullish set ups and the potential to run higher here.
$AAPL looks to have topped out here over the 70 RSI short term and is need of consolidation in price action.