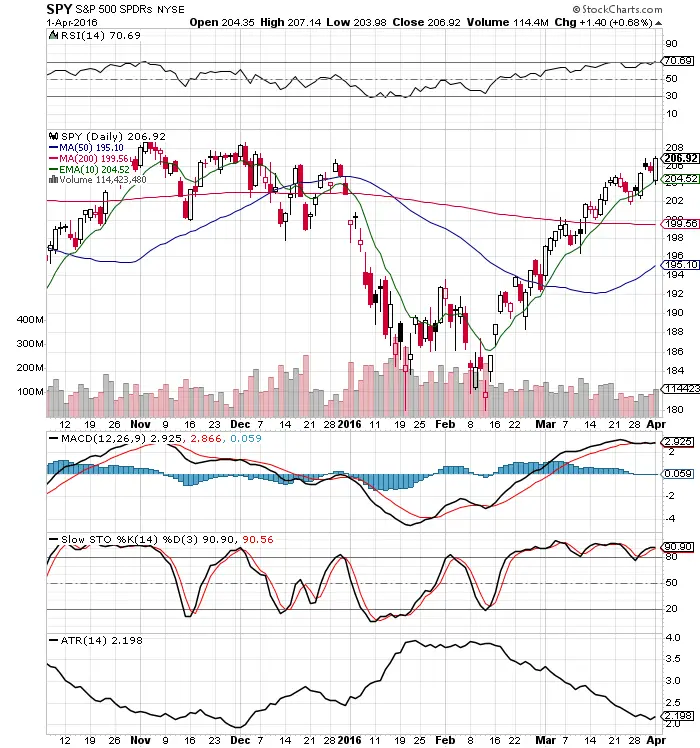 This market has been range bound since 2014:
From the 4Q '14 till 1Q of '16, the SPX gained a total of 0.84 points … yet moved nearly 5k points. pic.twitter.com/lCY493StBC

— Ryan Detrick, CMT (@RyanDetrick) April 3, 2016
A 70.69 RSI is rare overbought level for $SPY. The odds are on going up very slowly from here with pullbacks before we can go higher.
The 10 day EMA has been the end of day support all the way through this rally after the correction.
The MACD is still holding the bullish crossover but is going flat here.
The Slow Stochastics is almost in a bearish crossover.
The average true range stopped declining so we could now see volatility start to expand in coming weeks.
The 50 day SMA has started to slop upwards showing the intermediate uptrend is in place.
2016's plunge into a correction and then rally back near all time highs has been historically fast moves in the history of the stock market. We are just back to where we started after all that drama.
The up days now have good volume.
Most indexes and stocks are now overbought near the 70 RSI and are setting up next week with little upside potential without a price base or a pullback first. The market went too far and too fast.